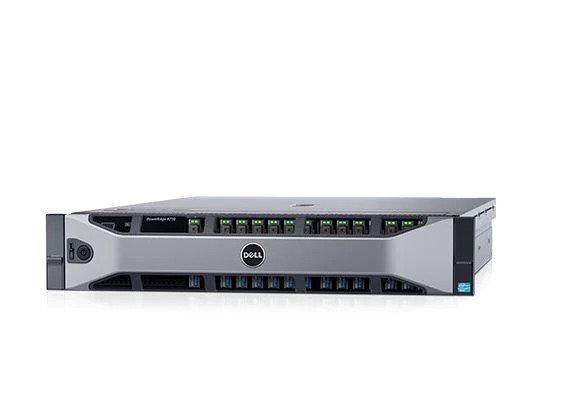 Form factor
2U rack server
Dimensions
H: 8.73 cm (3.44 in), W: 44.40 cm (17.49 in)
D: 68.40 cm (26.92 in)
Processor
Intel® Xeon® processor E5-2600 v3/v4 product family
Processor sockets: 2
2.5MB per core; core options: 4, 6, 8, 10, 12, 14, 16, 18, 22
Chipset
Intel C610 series
Memory
Up to 3TB (24 DIMM slots): 4GB/8GB/16GB/32GB/64GB/128GB DDR4 up to 2400MT/s
I/O slots
Up to 7 x PCIe 3.0 plus dedicated PERC slot
RAID controllers
Internal controllers: PERC S130 (SW RAID), PERC H330, PERC H730, PERC H730P
External HBAs (RAID): PERC H830
External HBAs (non-RAID): 12Gbps SAS HBA
Drive bays
Internal hard drive bay and hot-plug backplane:
Up to 16 x 2.5" HDD: SAS, SATA, nearline SAS SSD: SAS, SATA
Up to 8 x 3.5" HDD: SAS, SATA, nearline SAS SSD: SAS, SATA
Embedded NIC
4 x 1GbE, 2 x 10+2GbE, 4 x 10GbE NDC
Power supplies
Titanium efficiency 750W AC power supply; 1100W DC power supply
Platinum efficiency 495W, 750W, 1100W AC power supply;
Remote management
iDRAC8 with Lifecycle Controller, iDRAC8 Express (default), iDRAC8 Enterprise (upgrade) 8GB vFlash media (upgrade), 16GB vFlash media (upgrade)
Systems management
IPMI 2.0 compliant
Dell OpenManage Essentials Dell OpenManage Mobile
Dell OpenManage Power Center Dell OpenManage Integrations:
• Dell OpenManage Integration Suite for Microsoft® System Center
• Dell OpenManage Integration for VMware® vCenterTM

Dell OpenManage Connections:
• HP Operations Manager, IBM Tivoli® Netcool® and CA Network and Systems Management
• Dell OpenManage Plug-in for Oracle® Database Manager
Rack support
ReadyRailsTM II sliding rails for tool-less mounting in 4-post racks with square or unthreaded round holes or tooled mounting in 4-post threaded hole racks, with support for optional tool-less cable management arm.
Operating systems
Microsoft Windows Server® 2008/2012 SP2, x86/x64 (x64 includes Hyper-V®)
Microsoft Windows Server 2008/2012 R2, x64 (includes Hyper-V)
Microsoft Windows HPC Server 2008
Novell® SUSE® Linux Enterprise Server
Red Hat® Enterprise Linux
Optional embedded hypervisors
Citrix® XenServer®
VMware vSphere® ESXiTM
Microsoft Windows Server 2012, includes Hyper-V
To create a quote, first add this product and any other products to your cart. Then within the cart, click the "Save Quote" button.
Ask Our Expert Staff
Need expert advice? We are here to help! Please fill out the form below to have a technician contact you.
Fields marked with * are required.
---
Contact Us
Call: (310) 844-6661 (Monday - Friday, 10am - 6pm PST)
Email: sales@x.solutions